SMS Marketing Solution.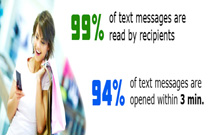 Mobile phone is the most popular technology of our daily life. This technology has become the main communication media. SMS is such a messaging service which may create instant response through mobile phone. We like to inform you that our BangTech Corp. team has some qualified IT specialists who are skilled in SMS technology. So we are so much confident to deliver any kind SMS solution like bulk sms, push-pull sms, web based sms service.
Scope of Our SMS Services:-
01. Job Notification.
02. General Info (Office Address, Service Details).
03. Specific Information (Training/Cultural Program).
04. Notice / Greeting (Official / Occasional for target people).
05. Reminder for Due Payment / Due Inquiry.
06. Events: Voting, Quiz contest (From on different programs of various media like TV/Radio/Newspaper).
07. Event Notification (Meeting ,Program ,others, Training).
Benefits of Cell/Mobile Phone SMS Services:-
01. People always check their SMS quickly.
02. Now sms is a very effective way of direct communication.
03. It has the power to create instant response.
04. Cheap cost marketing communication.
05. The response is very helpful to boost up your business.
Our Database:-
We have 5,00,000+ Mobile Numbers in our Database.
Hare is Corporate employer, CTO, CEO, Managing director, Club members, Different organization member, Different company owner and directors, Non-Corporate employer, Teachers, Students etc.
SMS Marketing Package Cost:-
| | | |
| --- | --- | --- |
| All Packages | SMS Unit | Package Price |
| Package 01 | 10,000 SMS | 10,000 BDT/ 135 USD |
| Package 02 | 25,000 SMS | 22,500 BDT/ 300 USD |
| Package 03 | 50,000 SMS | 40,000 BDT/ 535 USD |
| Package 04 | 75,000 SMS | 60,000 BDT/ 800 USD |
| Package 05 | 1,00,000 SMS | 80,000 BDT/ 1,070 USD |