Bulk Email Marketing Solution.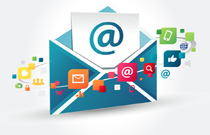 Why Email Marketing?
01. Quick response & quick delivery.
02. Lowest cost and highest benefit.
03. Directly reach to the targeted people.
04. Website address and email address can be linked directly.
05. Advertising space is not a issue. You can use unlimited space for advertisement.
06. You can use both picture and text. Beside this, you can use feedback form in email.
07. You can increase your sells by email marketing. Beside this your company gets a brand position.
08. Email will delivered by using your company email. So you will get any kind of reply in your email from clients.
Why you choose email marketing services from BangTech Corp.?
01. Cost effective.
02. Specific Clients area.
03. 80-90% inbox delivery.
04. 24*7 customer support.
05. Spam and bounce detector.
06. 1 by 1 email sending system.
07. SMTP server with dedicated IP.
08. 15000+ satisfied clients worldwide.
09. Free consultancy for better advertisement.
10. Picture can add in body. No need to attachment.
11. Automatically email delivery by Email marketing software.
12. All verified email. We use our customized software to verify all email.
13. Auto generated report for clients (Inbox report, Spam report, Bounce report).
14. No duplicate email. Our software removes email if it get any duplicate in the email list.
15. BangTech Corp. is pioneer of Email marketing in Bangladesh. So we always maintain our reputation.
Our Database:-
Corporate: 5,00,000+ Email Address.
(Covered: Corporate employer, CTO, CEO, Managing director, Club members, Different organization member, Different company owner and directors etc.)
We have 10,00,000+ email Address in our database (Corporate, Non-Corporate, Teachers, Students, Other's).
Email Marketing Package Cost:-
Package 01: (5 Lacs Corporate Email's): 15,000 BDT or 200$ (US)
Package 02: (5 Lacs Corporate + VIP's Email's) : 22,500 BDT or 300$ (US)
Package 03: ( 9 Lacs Local Email's): 25,000 BDT or 335$ (US)